A Road Bike
The frame and fork are from Falco. They do a lot of carbon and have some sweet looking frames, but I saw they also do Ti (and Al) and asked and yes they will do custom for an extra fee (even for the Al, but it a big price increase for the Al frames).
The front end with the tapered fork legs, and taper steer tube is plenty stiff enough. Probably stiffer than the rear end, which is pretty stiff but I don't think it is as stiff as my previous bike which was a Cannondale System – that bike was awesomely stiff! If I could re do the frame geometry I would make the chain stays a little shorter.
I have gone 100% Campagnolo 11 speed because I thought a nice Ti frame would suit Campy better. I've used Campy 10 speed in the past. The front and rear derailleurs are Chorus, as are the shift/brake levers. However I wanted to try 180mm cranks, and managed to find an awesome source for Campy parts where I got the 180mm Super Record cranks Cheaper than "normal" Record. Stiff cranks are important and I'm not feeling any major issues with the super records.
I love adding some "bling" and up graded the derailleurs with an anodized tuning kit, and red anodized brakes. However I'm finding the brakes don't have a lot of grunt on the 23mm rims I have on this bike. Luckily I currently only ride fairly flat roads. If I did more hills riding like in the past then these would not pass the abuse test!
I love Specialized saddles. I highly recommend going to a Specialized store and getting "fitted" and looking at their range. Saddles are very personal, but they have something for everybody, and a range of prices. I have a neat little set of lights from night king pro that I'll talk about more later.
Yes I have a Garmin, but I haven't got into strava yet. Also the pedals I'll talk more about later as I'm pretty happy with them so far. The bearings are worthy! The stem, handle bars, and bottle cages are just generic carbon fiber. The bottles are covered in Giant logos as they were the cheapest I could find and they were red.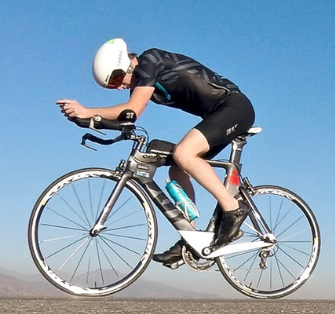 Born in UK, Stephen has already won numerous awards at cycling competitions, including no #1 at The Fast Cyclist European 2019 Award, no #2 for 2016 edition and no #1 for 2014. Besides the high-performance European competitions he participates in, Stephen is also a very pro-active supporter of ecology and how cycling can help reduce the impact that cars have on our planet. He enjoys also using his mountain bike to go on rides across Austria's and Italian mountains, in deep down falls. For long-distance tracks, Stephen uses his bibs with new adjustable straps in the back. For city rides, he enjoys testing a variety of bikes that will deliver the performance and reliability he is looking for.